Many users across India are receiving messages where scammers threaten to disconnect their electricity connection if they don't contact a number and follow instructions.
SMS/WhatsApp Electricity Scam: Many users have been receiving messages on WhatsApp and via SMS from unknown numbers which claim that the user's electricity, telephone or other connections will be disconnected unless they contact a certain number. "I received the first SMS on September 30 and then a second message on October 2. My mother also received a similar message. We have a very high electricity bill so I thought that maybe it is right," Soumya Sengupta, a 38-year-old Kolkata-based businessman told indianexpress.com.
"So I checked the CESC [Calcutta Electric Supply Corporation] website where I usually pay the bill. But all the dues were paid. That is when I suspected it was a scam," added Sengupta. "Your Electricity Power will disconnect at 9:30 pm as your last month (sic) bill wasn't updated Call us [mobile number]," said two separate messages sent to Sengupta.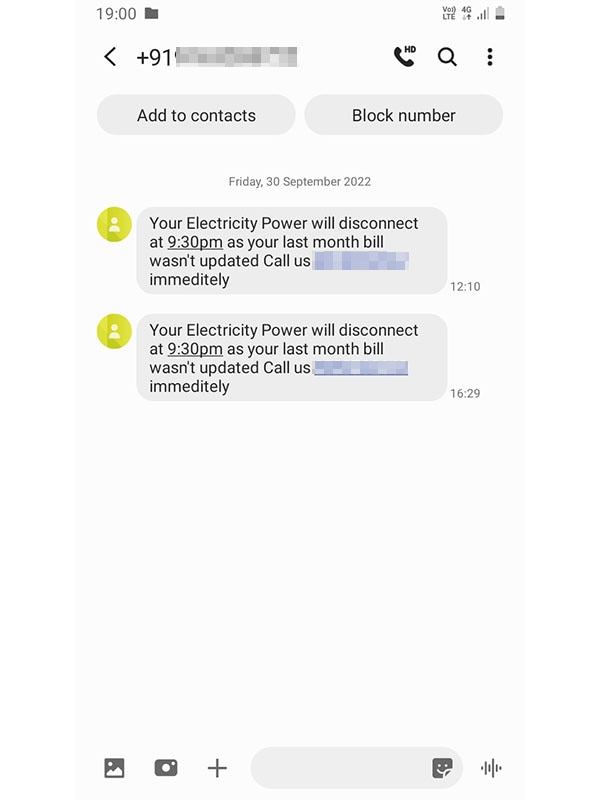 The scam is also popular on WhatsApp. "I got the message on September 26. I immediately identified it was a scam. I have two houses, one in Kolkata and one in Odisha. I have never gotten a WhatsApp message from either of the distribution companies in the cities. And even when companies use WhatsApp, it will have a logo and it will be from an official account," said Anthony Khatchaturian, a 41-year-old freelance writer who works out of Kolkata and London, to indianexpress.com.